You're fully prepared for your next trip to Paris, but you now wonder where you're going to eat. As you know, French gastronomy is renowned worldwide and it's necessary to choose great places to eat in the capital. It's even better when these restaurants are close to the monuments you want to visit. You saw French food on the TV, and you want to experience it? From the famous croissant to the French Tartare, are you a sweet or a salty mouth?
I, Clemence, founder of Milirue and a French mother of three children (10,8 and 3 years old) selected for you the best Kids-friendly restaurants in Paris, which will make you discover Parisian food but also French ways to eat. Are you ready to tempt your taste buds?
And to save you the trouble of copying and pasting the addresses into Google Map to see if they match your program, here is a small geolocalized map with the numbers corresponding to the restaurants:
To discover also on the Blog of Milirue, category family city trip in Paris : Paris with your family: the must-see monuments to discover with your children, (Top 20) Best Places to stay in Paris for Families, 10 Best kid-friendly museums in Paris (selected by a french mum)
In this article "best kids-friendly restaurants of Paris", you will find :
Typical Parisian restaurants
Go to the Locals favourites!
Paris is also known for its bouillon, which are typical French bistro. There will make your life a unique experience because the ambiance there is amazing!
1- Le Petit bouillon Pharamond
In this restaurant founded in 1879, you will find a huge variety of traditional French meals! The facade is listed as a historical monument, and the inside is even more impressive for its Belle Epoque decoration. You will eat in a traditional ambiance, sitting at square tables with huge mirrors on the walls. Try to avoid your kids to do funny faces in the mirror, but they will be for sure tempted… 😉 The restaurant has three stories to receive the numerous clients that come all day long, and the prices are really affordable! The meals that your children will probably prefer are the pâté en croûte (a French pie) and the elbow pasta with the Boeuf Bourguinon. Colored pencils are available so that your children can draw while waiting for the meals to arrive.
Adress : 24 rue de la Grande Truanderie 75001 Paris
Opening hours : Every day from noon to 12 am
How to get there : Metro line 4, Station Centre George Pompidou
This restaurant is located at only 13 minutes away by feet from the Louvre, which is the starting point of the second discovery city tour of our booklets "Milirue in Paris" !

2- Le bouillon Chartier
The Bouillon Chartier will get your attention too. This restaurant was founded in 1896 and is since then welcoming people in decoration of the 20s! You will have the chance to appreciate their andouillette (a French sausage with a strong taste).
This place is a real French institution with its 2000 covers served per day! It has a canteen vibe, so don't be surprised if you share your table with strangers. The meals are really affordable and delicious. Sweet note: try their profiteroles!
Adress : 7 rue faubourg Montmartre 75009 Paris
Opening hours : every day from 11:30 am to 12 am
How to get there : Metro lines 8 or 9, Station Grands Boulevards
3- The Hotel Chouchou
This hotel proposes to receive people to eat on Saturday and Sunday. Their bar-guinguette offers you to discover a menu with mussels and fries on Saturday and chicken with potatoes on Saturday. In addition to a so French atmosphere, they propose animations for children from 3 to 12 years. An animator takes care of them, and they do coloring, make-up, or even board games. They won't have time to get bored and even have their own menu! Don't forget to book your table because the Hotel Chouchou prepares and orders the quantities in advance, to avoid wasting as much as possible.
If you're in town the week, this place turns also into a food market, now you just have to choose what you think you will prefer!
Adress : 11, rue du Helder 75009 Paris
Opening hours of the Food Market : 12:30 pm to 2:30 pm on Satruday and Sunday, 7 pm to 10:45 pm on Saturday night.
How to get there : Chaussée d'Antin-Lafayette.
Best brunches in Paris
Let's go for a typical French breakfast!
4- Café de Flore
Café de Flore is a famous French café that you might have seen in the TV show Emily in Paris! If you happen to have a little time for Netflix, after your crazy parenting day. Parisians love it because it used to be a hangout for philosophers and writers in the 20th, with people like the French poet Guillaume Apollinaire. Later, it even welcomed the renowned painter Pablo Picasso! Your children will adore its plants-covered façade, but most likely their amazing hot chocolate. Be careful to not leave the place with a milk mustache… :p
Adress : 172, Boulevard Saint-Germain, 75006
Opening hours : Every day from 7:30 am to 1:30 am.
How to get there : Metro line 4, station Saint-Germain-des-Près
Tip Milirue: It is located close to the "Ile de la cité", the place of the first discovery city tour of our booklets "Milirue in Paris" ! Before or after the discovery-tour it will always be a good idea.
5- Angelina
The decor of this place will amaze your kids, and you will feel special just being there! Again here hot chocolate is known to be one of the best in the city, there's no better comforting food, is there?
You will also find delicious butter croissants, a must-try when you visit France and especially Paris! This place is famous for more than a century, and it's located opposite the Jardin des Tuileries. Don't forget to also try their Mont Blanc, it's the dessert Angelina is most famous for!
Adresses: There are many in Paris, choose the one you are the closest to!
Opening hours: From 8 am to 7 am on Monday, Tuesday, Wednesday and Thursday and from 8 am to 7:30 pm the rest of the week.

6- Hôtel Bachaumont
This wonderful french hotel proposes Sunday brunches. From 12 to 3 pm, you can go there to taste their « Déjeuner du dimanche » (Sunday lunch). While you enjoy the menu, your children will have their own, but they will also have the possibility to go to play with an activity leader named Sami that is there to advertise them!
Tip Milirue: Make a reservation and read the menu outside before you go in so you can just order to gain time.
Adress : 18 Rue Bachaumont, 75002 Paris
How to get there : Metro station Sentier or Etienne Marcel
Regional French food in Paris
Try some food of different French regions!
We recommend you to try also food from different regions of France, because French cuisine goes beyond the borders of Paris! Here are three restaurants that you will probably like and will make you discover flavors you've never tasted before.
7- Chez Janou
Of all the regional restaurants, this one will allow you to hear the cicadas of Provence. This French bistro will get your attention with its meals, but also its desserts. You will find there Entrecôte (a big piece of beef meat) but also Ratatouille… This name will probably sound familiar to the ears of your children. Yes, finally, they will have the opportunity to eat the meal from the movie Ratatouille! But now let's make room for the dessert. This place is really famous for its chocolate mousse, so make sure to save room for it and not leave this place without trying it!
The place here is also really nice, typical of a French bistro, with white and green tablecloths and walls decorated with vintage posters.
Adress : 2, rue Roger Verlomme 75001 Paris
Opening hours: From 12:15 pm to 3 pm and 7 pm to 11:30 pm every day, it closes at 4 pm for lunch service on Saturday and Sunday.
How to get there : Metro line 1, 5 or 8 station Saint-Sébastien
8 & 9- Breizh café
Breizh café. You will find there the best crêpes and galettes made of local products and fresh ingredients. This famous meal comes from Britannia, the western part of France. By the way, Breizh, means Britain in the dialect of this region! And guess what, you will find many Breizh Cafés in Paris. You probably also know that you can eat crêpes anytime you want: for breakfast, lunch, or even dinner! You will find for sure the right time! Furthermore, you have so many options, from salty to sweet ones. And they have of course crêpes for your children!
Adresses: There are many in Paris, choose the one you are the closest to!
10- L'Alivi
If you want to bring some sun to your children's plate, you have to try this Parisian restaurant that is specialized in Corsican cuisine. In the historical area of the Marais, you will have the opportunity to travel to the island of Corsica. You will feel this through the place with the stonewalls and the wooden framework, but also thanks to traditional Corsican recipes.
This restaurant opened for 23 years looks like a mansion in the mountain. You will even have the chance to taste the mythic Fiadone: a typical pastry of Corsica that could be seen as the ancestor of the cheesecake. Your children will love their cannelloni with brocciu (a Corsican cheese)!
It is a very good way to awaken their curiosity and their taste for the challenge by choosing dishes that are not familiar to them !
Adress : 27 rue du roi de Sicilie, 75004 Paris
Opening hours : From noon to 2:30 pm and 7 pm to 11:00 pm every day, except on Saturday and Sunday: from noon to 4 pm and 7 pm to 11:30 pm.
How to get there : Metro line 1 station Saint-Paul.
Food markets in Paris
Discover the concept of food markets, a huge area with delicious food!
In this place, you will have the possibility to eat or just to go do groceries if you want to buy special products. These alternatives create a great vibe and show different ways of eating.
11- Marché des enfants rouges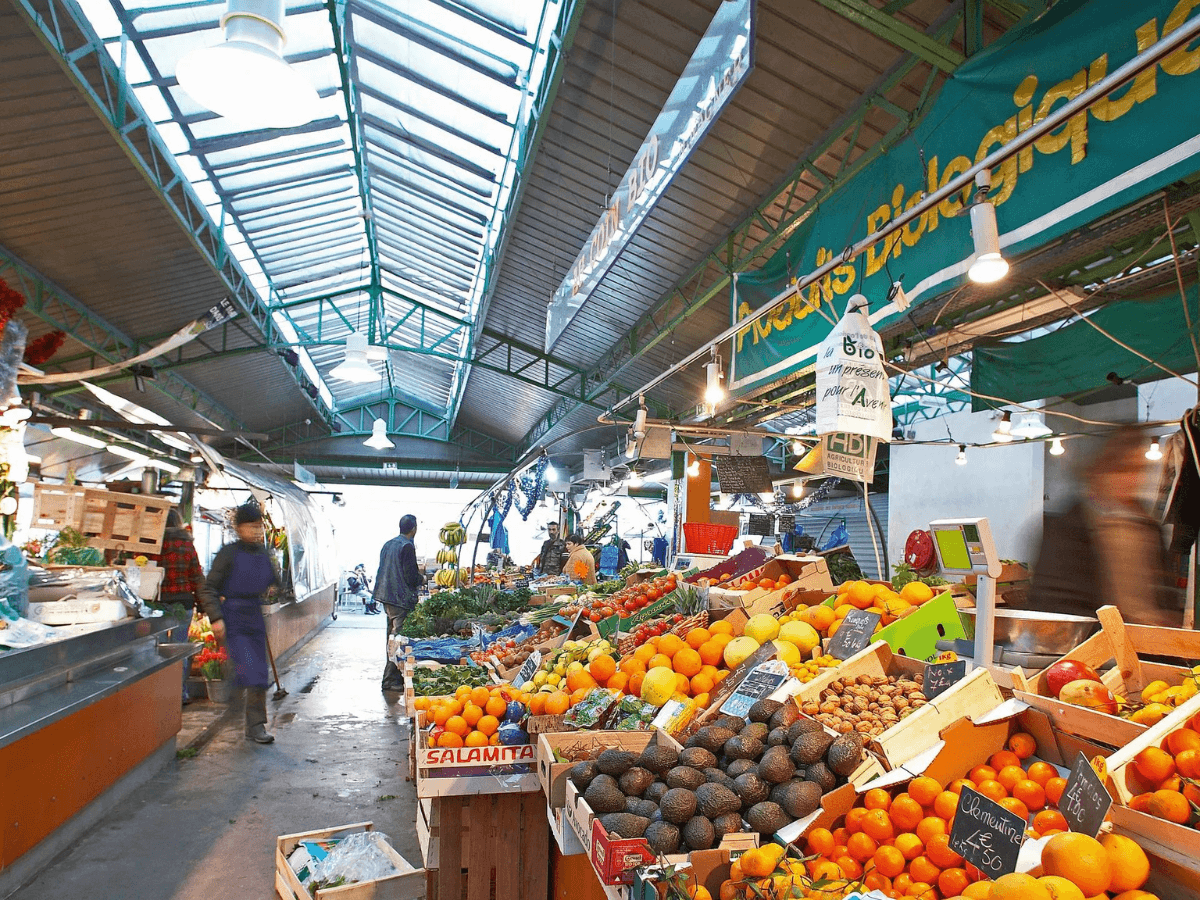 The Marché des enfants rouges is located in the Marais, a trendy area in Paris. You will find there one of the oldest food markets in Paris. When it's lunchtime you can eat many different specialties from the little shops all around: Japanese food, Italian food, Moroccan food, you will for sure find something for each member of the family. They also propose brunch during the weekend at the restaurant in the center of the market or at the "Petite Fabrique", which is open every Sunday.
Tip: go there around 11:30 to avoid the crowd and if you want to try everything, compose two teams to share the preparation of the buffet, it will avoid big lines. Collect the different dishes and go for a picnic a few steps away on the square René Viviani in front of the cathedral of Paris or in the garden of the carousel with a view of the pyramids of the Louvre.
Adress : 39 rue de Bretagne, Paris 75003
Opening hours: Every day except on Monday, from 8:30 am to 8:30 pm on Tuesday, Wednesday, Friday, and Saturday, from 8:30 am to 9:30 pm on Thursday, and from 8:30 am to 5 pm on Sunday.
How to get there : Metro line 3 and 11, station "Arts et Métiers", Metro line 5, station "République"
12- La Felicità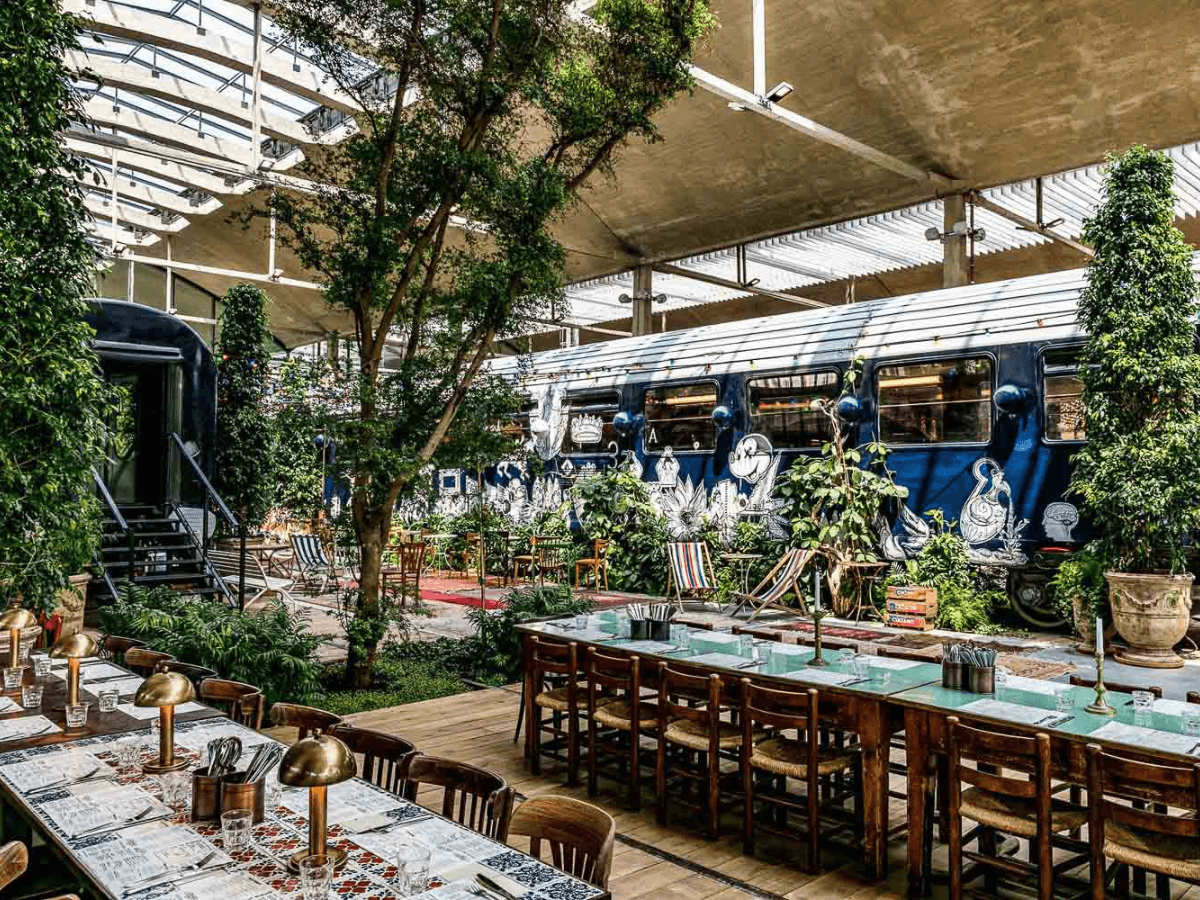 La Felicità, seen as the biggest restaurant in Europe, is a must-see if you want to eat Italian food in Paris. It's also a market where you can buy Italian products. This restaurant proposes animations for children on the weekend and even a kindergarten on Sunday. They also have musical programming from Thursday to Sunday.
There are high chairs and baby changing tables that you can borrow for more comfort.
Good to know: the restaurant doesn't allow reservations, you just arrive, order and eat straight!
Adress : 55 Boulevard Vincent Auriol, 75013 Paris
Opening hours: From 9 am to 12 am from Monday to Wednesday, from 9 am to 1 am on Thursday and Friday, from noon to 1 am on Saturday, and from noon to 12 am on Sunday.
How to get there : Metro line 6, station "Chevaleret", metro line 14, station "Bibliothèque François Mitterand"
Restaurants that will make you travel around the world
A bit of foreign culture on your plates!
13- Chez He
Chez He is the perfect place to eat with your family if you like Chinese food. The has a large playground of 350 square meters for children between 2 and 12 years. In this playground, you will find: a small maze, a pirate ship and its compressed air cannons, a giant interactive screen, a disco room, a ball pool, a hall of mirrors, a giant slide, … in short, everything to delight your children! In order to keep an eye on them, surveillance cameras are placed everywhere in the park and the images are then retransmitted in the restaurant area. Reservations can be made on their website and by phone. On the children's menu, here is what the restaurant offers: burgers, chicken or fish nuggets and fries, chicken egg rolls and Cantonese rice, chicken ravioli, and fried rice. And a scoop of ice cream for dessert.
Adress : 4 Cité de l'Ameublement, 75011 Paris
Opening hours: From noon to 10:30 pm from Wednesday to Thursday, From noon to 11 pm and from Friday to Sunday. Closed on Monday and Tuesday.
How to get there : Metro line 8 station "Faidherbe – Chaligny".
14- Bambini
This Italian restaurant, located in the heart of the Palais de Tokyo at the Trocadero, is as famous for its great decoration as its superb Italian dishes. A treat for the eyes and the stomach. In the middle of the restaurant, there is an impressive pizza oven. And as a bonus, a fabulous terrace that will provide you with a great view of the city!
Adress : 13 avenue du Président Wilson 75016 Paris
Opening hours: Opened every day from noon to 3pm and 7pm to 1am.
How to get there : Metro Iéna
15- Pink Mama
In this Italian restaurant, the menu changes every month because they use seasonal products. The ingredients are imported from Italian producers. There is a dish for the bambini, delicious pasta with the sauce of the day, and as a dessert an Italian ice cream :p
Like all BigMammaGroup restaurants, this 4-story restaurant is beautiful!
Adress : 20bis, Rue de Douai, 75009 Paris
Opening hours: From noon to 2:15 pm and from 6:45 pm to 10:45 pm from Monday to friday, From noon to 3:15 pm and from 6:45 pm to 11 pm on Saturday and sunday.
How to get there : Metro line 2 station Blanche or line 12 station Pigalle
16- Posto 9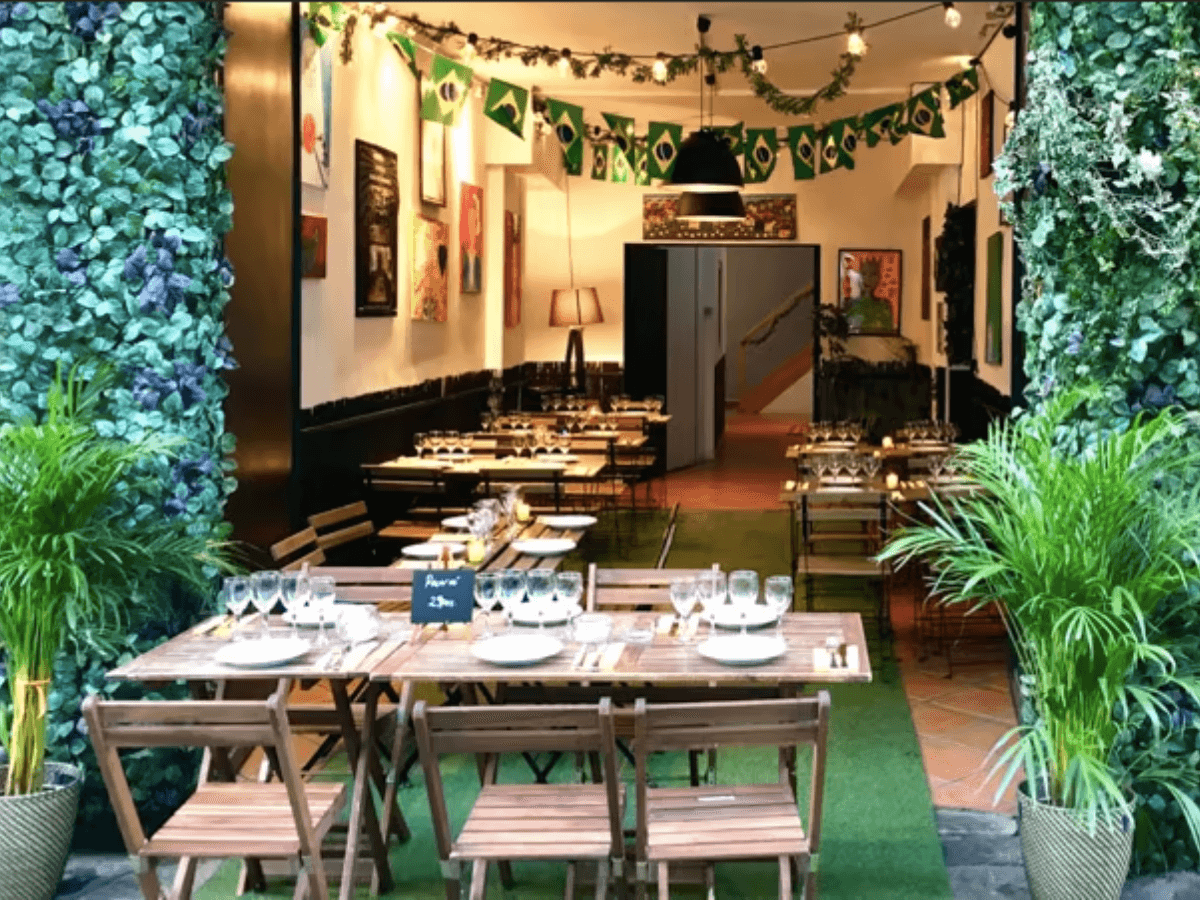 You want to immerse yourself in a completely different atmosphere from Paris? Do you feel like you need sunshine, bossa nova in the background and tropical decor? Posto 9 is the Brazilian spot that will immerse you in the flavors of its typical Brazilian dishes in this sunny environment. The restaurant offers starters at €6, main courses at €15, and a children's menu at €10. The children's menu is reserved for children under 10 years old and includes a choice of beef bourguignon, breaded chicken, or feijoada. There is also a tropical garden of 300m2 in the open air, to enjoy the good weather.
Good to know: the restaurant accepts reservations until 8:30 pm on its website.
Adress : 26 rue de Paris, 92110 Clichy
Opening hours: From noon to 2:15 pm and from 6 pm to 9:45 pm from Monday to Saturday. Closed on Sunday.
How to get there : Metro line 13 and 14 station "Porte de Clichy"
We've come to the end of this suggestion of the restaurants you should go in Paris. We hope this article will help you to have the best program for your visit of Paris with your children!
To go further, discover our articles: the best places to stay in paris for families, Paris with your family : the must-see monuments to discover with your children, 10 best kid(friendly museums in Paris (selected by a French mum)
2 fun discovery city tours to visit Paris with your family
Milirue has a wish: to create for you and your children the perfect visit of Paris. That's why we created the booklets Milirue. To bring the whole family on board, the Milirue booklets are adapted by age group, to offer the best activities and explanations. The Mini, is for apprentice readers from 4 to 7 years old. And the Junior, from 8 years old. Start to discover the Ile de la Cité, The Louvre, the Palais-Royal while having fun all together!
Turn your kid into a mini family guide through anecdotes, challenges and clues to visit while having fun with your family.
To make the visit as cool as possible, the notebooks are completed with a great map, to discover the best kept secrets of Paris!
You know where you are, where you're going and moreover, it allows you to discover photos and explanatory videos to understand everything, with additional explanations for curious parents!
It even seems that it lists the best snack spots for a 100% successful trip… Hush, we won't say more! 😉

In the notebook "Milirue in Paris" : there is a guided-tour on the Ile de la cité and a second one to discover the Louvre, the Tuileries and the Palais-Royal (1h30min walk).A booklet, for 2 walks. And also games, activities, and stories to discover before leaving!
Order them on-line ! (Several proposals of delivery modes, worldwide)
Bon appétit, enjoy your meal wherever you are in Paris, and see you around !
Clémence