Housing chosen ? Program almost ready? Strategic decisions such as "should we take the stroller with us or do we leave it?". What if you took the time now to select a few kid-friendly restaurants near the areas you will discover with your family?
Discover our selection of the nicest restaurants in Paris, adapted to children and possible large families, to spend a pleasant and friendly moment. The little extra? We have studied the specificities of each one to select the best ones in terms of facilities, cool children's menus, entertainment, playground and much more!
And to save you the trouble of copying and pasting the addresses into Google Map to see if they match your program, here is a small geolocalized map with the numbers corresponding to the restaurants: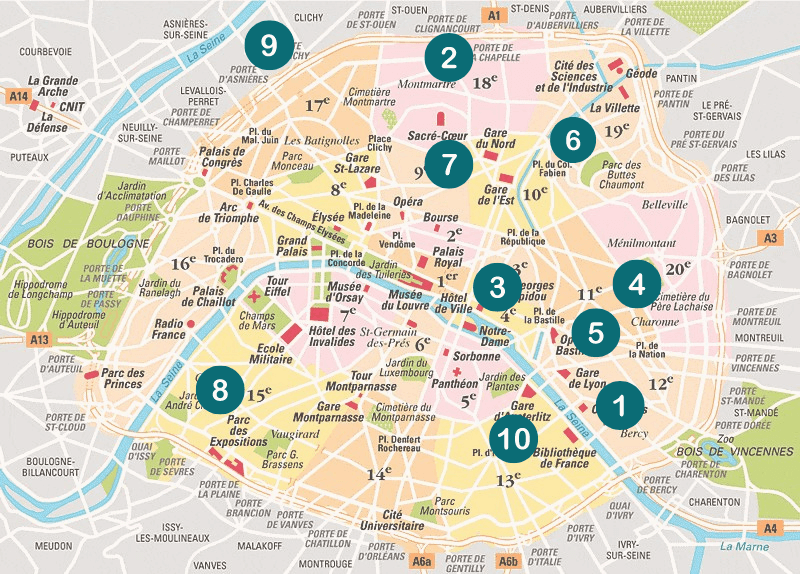 In this article, you will find :

Kids-friendly theme restaurants in Paris
1- Les 400 coups (temporary closure)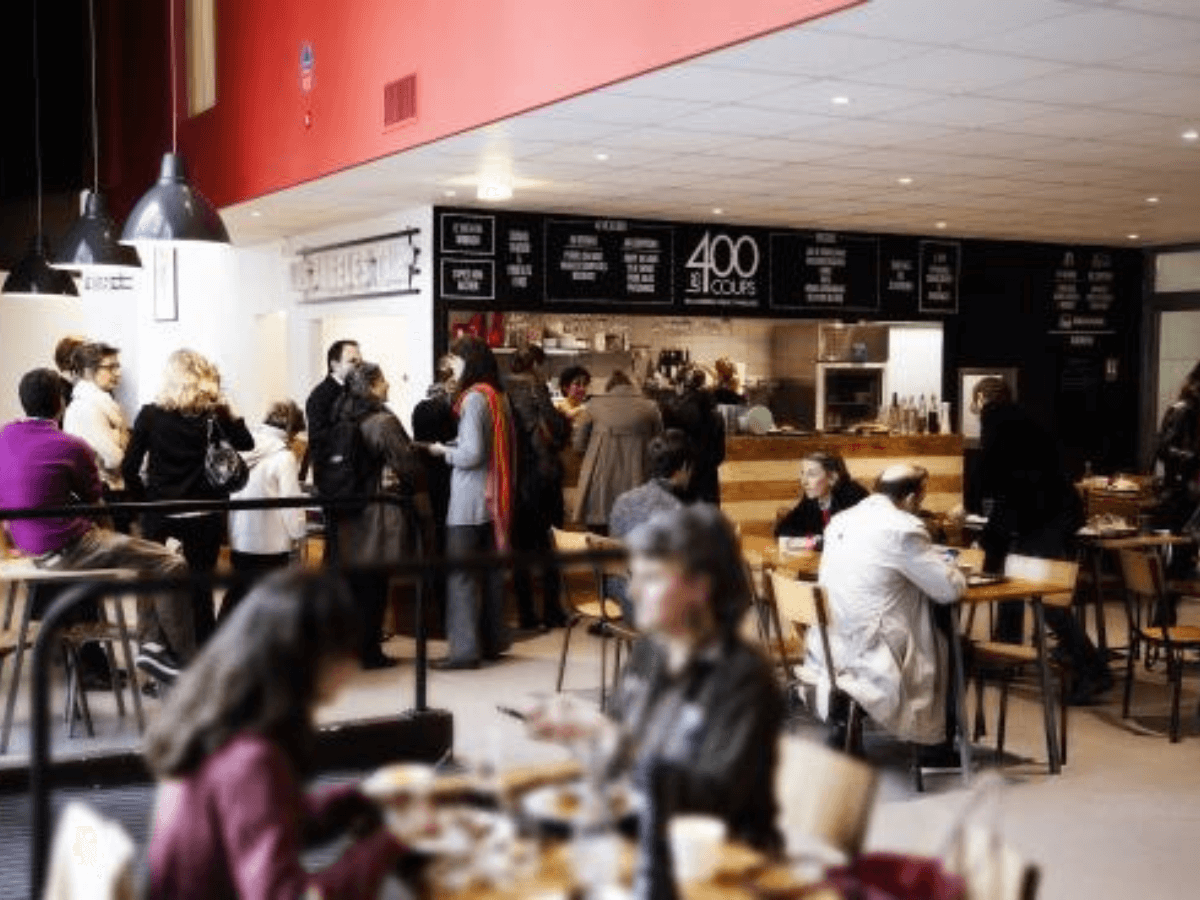 Les 400 coups is a very pleasant café-resto where you can have lunch, which includes everything you need: high chairs, changing table, … and books and games for children are available to all.
Located in the heart of the French Film Library, the 400 coups is also a large terrace in the Parc de Bercy where you can enjoy a ray of sunshine. Play areas with shadow puppets, kapla and giant slate are available for children and adults. In order to ensure the peace of mind of parents, children have their own space in a small room at the back of the restaurant.
The products are organic, seasonal, fresh and all homemade! The menu changes every day and there are special offers for children.
The Cinéphilou Brunch formula contains for example an apple juice, a mini-croissant and a mini chocolate bread, bread, butter and jam, a plate with scrambled eggs, roasted potatoes, sausage, fruit and raw vegetables and a surprise (13€).
Good to know: you can reserve by mail at this address: restocinematheque@les400coups.eu and during the weekend, reservations are only made by phone.
Address : 51 rue de Bercy, 75012 Paris
Price range: around 15€ per person and a children's menu at 13€. A brunch menu is proposed: 12€ for the little ones and 23€ for the older ones.
Opening hours : Open from 11am to 8pm and closed on Tuesdays.
Access : Metro lines 6 and 14, "Bercy" station. Bus 24, 64, 87, 77.
2- La REcyclerie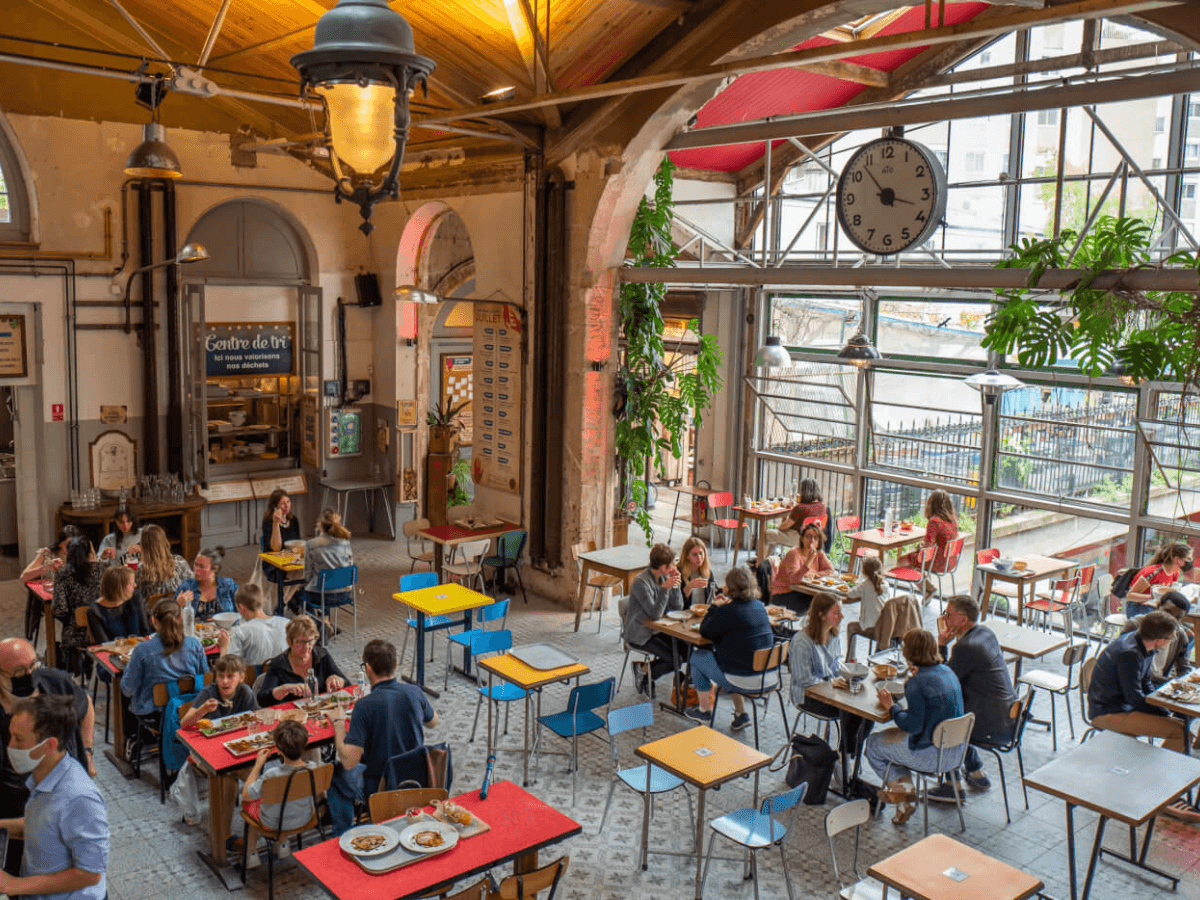 Impossible to imagine from the outside, the serenity that reigns in the REcyclerie! The setting is very pleasant for families and it is possible to have breakfast, lunch, snack or dinner in this atypical environment.
Located at the edge of the old small belt, the place is completely refitted to create a parenthesis of nature with deckchairs and recycled tables but also a henhouse, a vegetable garden, board games, high chairs, petanque and Molky at disposal.
The dishes offered change every day according to the season and local products. Everything is home-made and that's what we like!
The ambition of the Recyclerie is to raise awareness of eco-responsible values in a fun and positive way.
Good to know: every Thursday, the café-cantine serves only 100% vegetarian and vegan dishes. This is an opportunity to raise awareness of the need to reduce meat and fish consumption for the sake of the planet. And, it is useless to reserve to eat there!
Address : 83 Boulevard Ornano, 75018 Paris
Price range: between 8€ and 15€.
Opening hours : Open every day from 8am to 10:30pm (except on Sundays).
Access : Metro line 4, "Porte de Clignancourt" station. Bus 85 and 56.
3- Le Marché des Enfants Rouges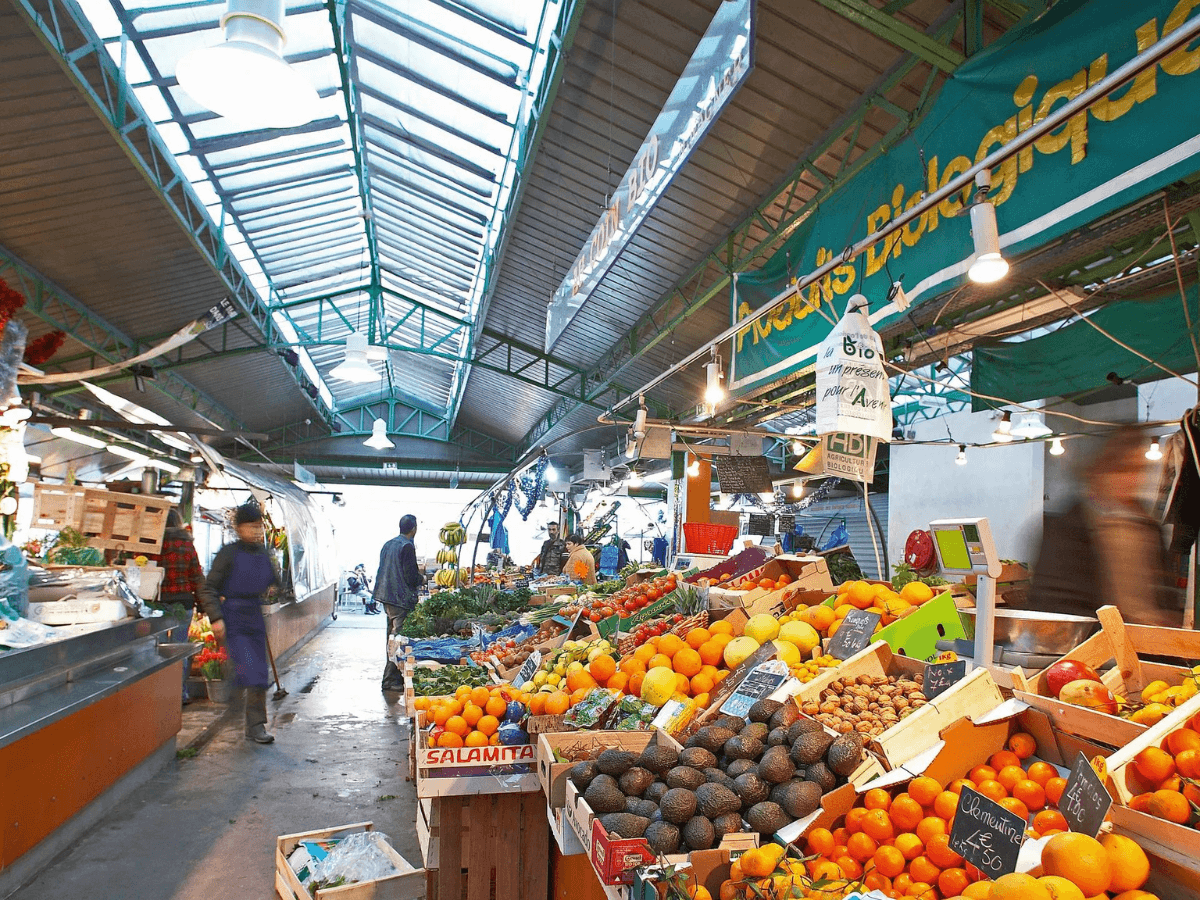 The Marché des Enfants Rouges is located in the Haut Marais and houses one of the oldest food markets in Paris. At lunchtime, you can enjoy a multitude of specialties including an Italian grocery store, Moroccan caterer, Taeko (considered one of the best Japanese restaurants in Paris), a Lebanese caterer, organic stands, …
On weekends, you can also enjoy a brunch at the Estaminet located in the heart of the market or at the Petite Fabrique, open every Sunday. It's the opportunity to combine a visit to the oldest food market in Paris with a tasty treat! The atmosphere is family friendly with a very large choice of food.
Tips : Go there rather around 11:30 am before the full lunch time to avoid the crowd and favor the off-peak hours if your kids are the less patient kind 😜
Address : 39 rue de Bretagne, Paris 75003
Price range : Prices vary depending on your dining location
Opening hours : Open every day except Monday, from 8:30am to 8:30pm on Tuesdays, Wednesdays, Fridays and Saturdays, from 8:30am to 9:30pm on Thursdays and from 8:30am to 5pm on Sundays.
Access : Metro lines 3 and 11, "Arts et Métiers" station, Metro line 5, "République" station.
Restaurants to entertain the kids in Paris
4- Le Super café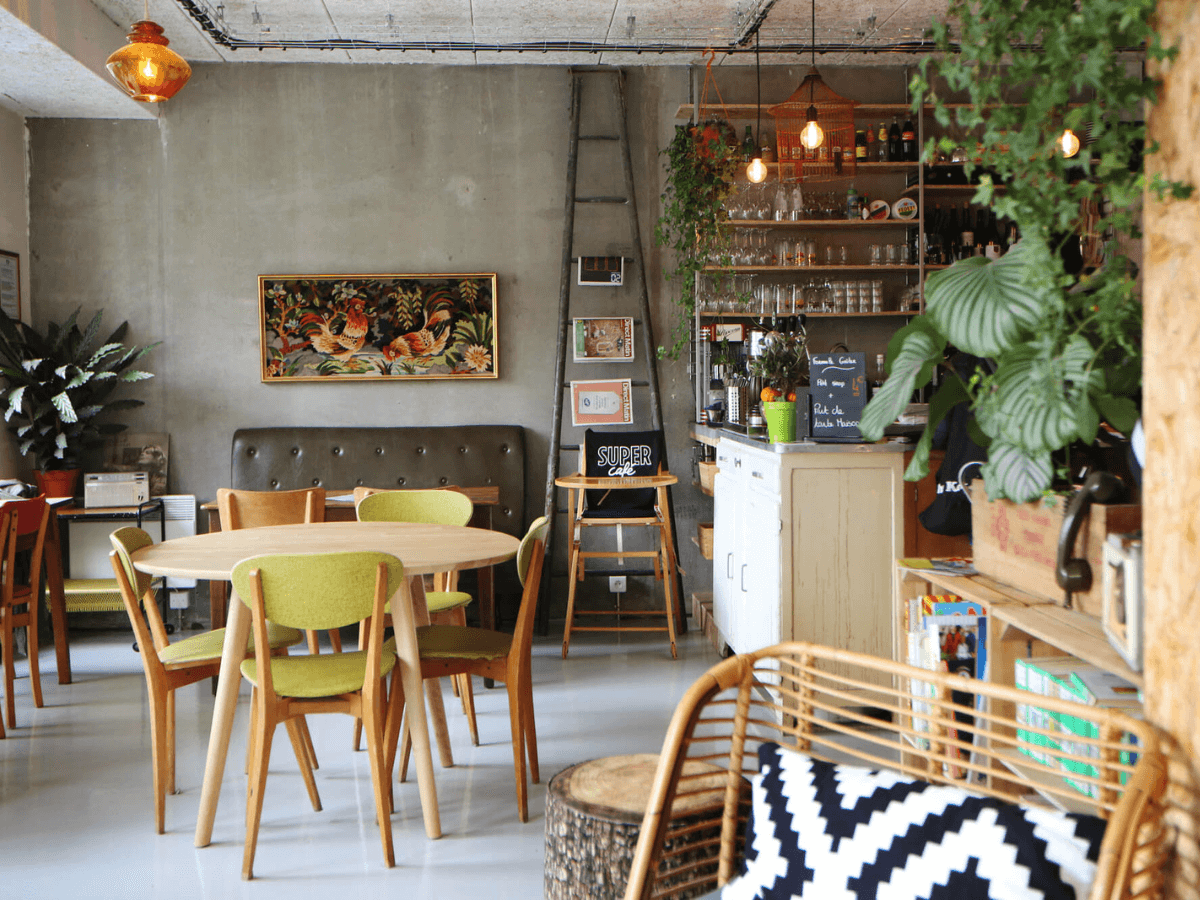 The Super Café is THE café-restaurant for families offering lunch, snacks and dinner. The place is above all ecological, ethical and intergenerational to bring together young and old. Children's playground equipment is available as well as a reading hut. Cultural, solidarity and artistic events are often proposed, notably playful and original workshops adapted to children (musical awakening, dance, theater). Deckchairs are installed on a large pedestrian terrace overlooking a pleasant wooded park, available to all.
At the Super Café, the food is fresh and homemade, and the menu is available in two plate sizes to fight against food waste and allow children to taste everything.
Good to know: The café is open all day long and reservations can be made by phone.
Address : 16 rue de Fontarabie, 75020 Paris
Price range : Children's dish at 10€.
Opening hours : Open Tuesday to Sunday from 11am to 7pm, open on Friday and Saturday until midnight. Closed on Monday.
Access : Metro line 2, "Alexandre Dumas" station, Metro line 9, "Maraîchers" station. Bus 76, 64, 26.
5- Chez He
Chez He is the perfect place to eat with your family, if you like Chinese food. The place is ultra kid-friendly with a large playground of 350 square meters for children between 2 and 12 years. In this playground, you will find: a small maze, a pirate ship and its compressed air cannons, a giant interactive screen, a disco room, a ball pool, a hall of mirrors, a giant slide, … in short, everything to delight your children! In order to keep an eye on them, surveillance cameras are placed everywhere in the park and the images are then retransmitted in the restaurant area.
Reservations can be made on their website and by phone.
On the children's menu, here is what the restaurant offers: burger, chicken or fish nuggets and fries, chicken egg rolls and Cantonese rice, chicken ravioli and fried rice. And a scoop of ice cream for dessert.
Address : 4 Cité de l'Ameublement, 75011 Paris
Price range: Children's menu: 9,90€ without park entrance and 19,90€ with park entrance. Park entrance fee : 15€ without meal.
Opening hours : Open from Wednesday to Thursday from 12pm to 10:30pm and from Friday to Sunday from 12pm to 11pm. Closed on Monday and Tuesday.
Access : Metro line 8, "Faidherbe – Chaligny" station
6- Le Café Zoïde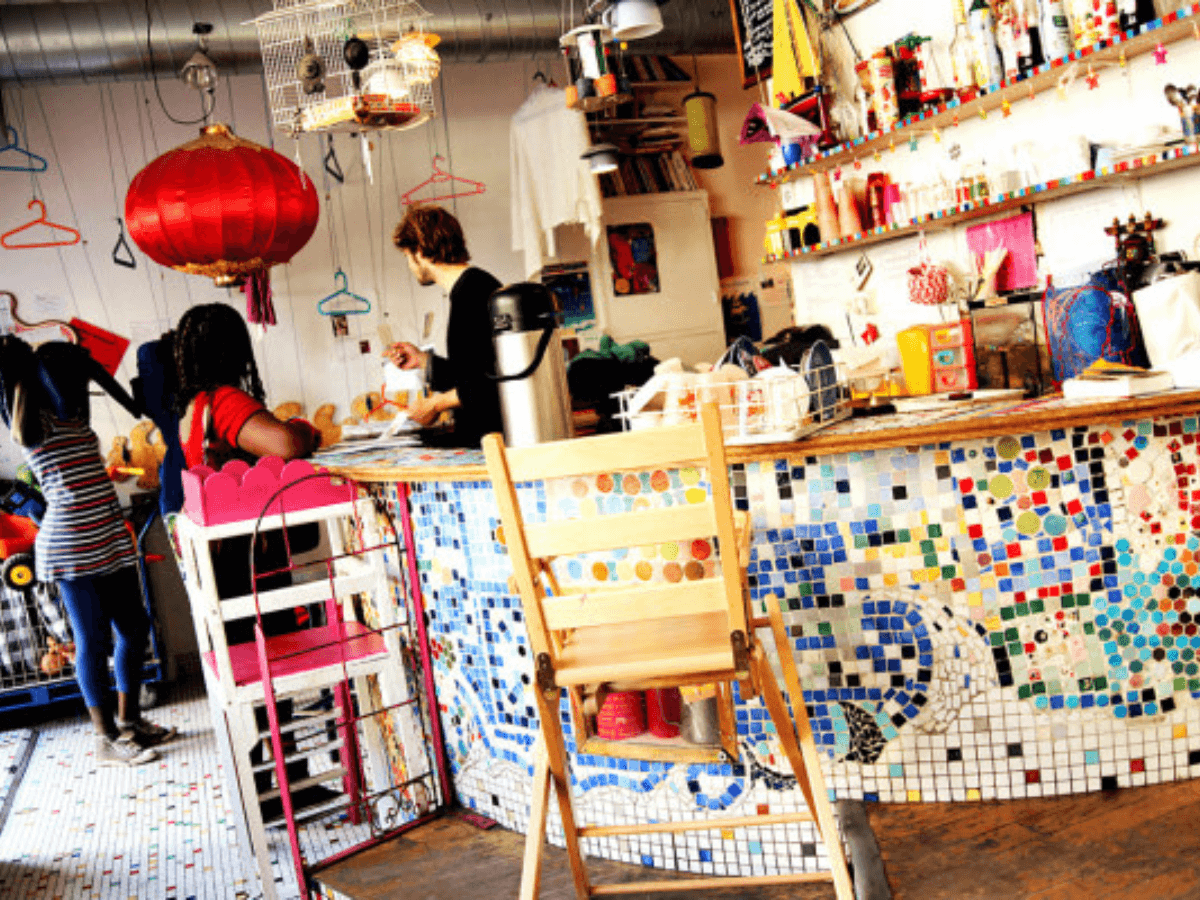 Café Zoïde, also known as the children's café, is the ideal place to enjoy a pastry and a good snack with your family. Here, the place is made for children to express their creativity. There are workshops of all kinds: painting, music, singing in English, … children can create and play freely in this friendly and family environment. Games, books and activities are offered and allow to spend a pleasant moment in family.
Address : 92bis Quai de la Loire, 75019 Paris
Price range: Children's entrance (3€ / 2€50 for large families and single parents with an entrance + a snack or a drink or a dish for children). Adult 1€ (Entrance + tea or coffee).
Opening hours : Open from Wednesday to Sunday from 10am to 6pm.
Access : Metro line 5, "Laumière" station
7- Le MiniBar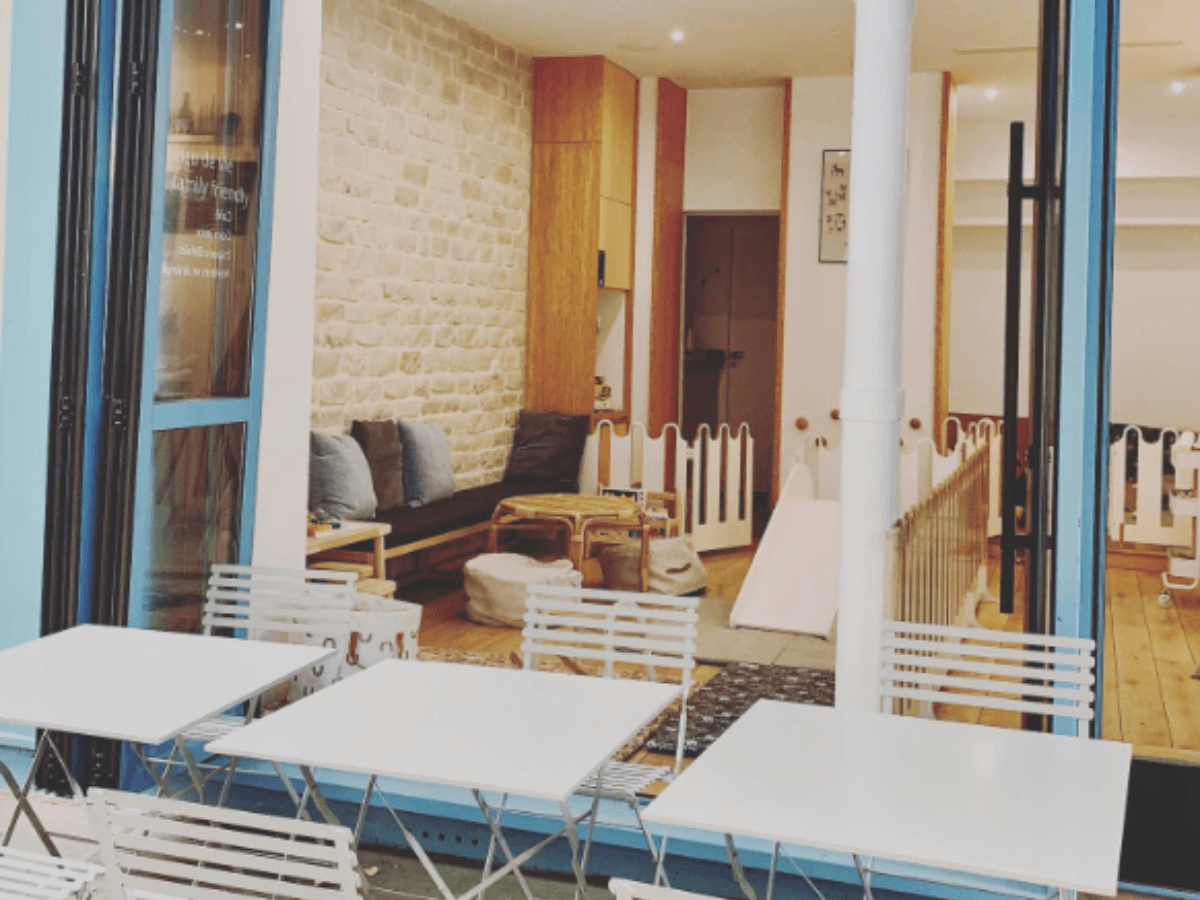 The MiniBar is a café-canteen, perfect for lunch with your little ones and nice for families looking for a break. We love this place which is kid-friendly but especially parent-friendly, thought for the family!
Everything is provided: changing table, diapers, liniment, homemade purees and compotes. Play areas with books, construction games, drawings and motor skills modules are available for parents to sip their coffee quietly while keeping an eye on their child.
A brunch formula is offered on Saturday and Sunday for 26€ and includes: coffee or tea, fruit juice, cookie, piece of cake or savory pie, piece of cake. The Mini brunch formula is 6€ more with a puree and compote. 1 hour of playground is offered when you take this formula.
Good to know: The café does not take reservations.
Address : 20 avenue Trudaine, 75009 Paris
Price range : Between 8€ and 15€.
Opening hours : Open from 10am to 6:30pm on Wednesday, Thursday and Sunday and from 10am to 8pm on Friday and Saturday. Closed on Mondays and Tuesdays.
Access : Metro line 2, "Anvers" station
8- Le French Coco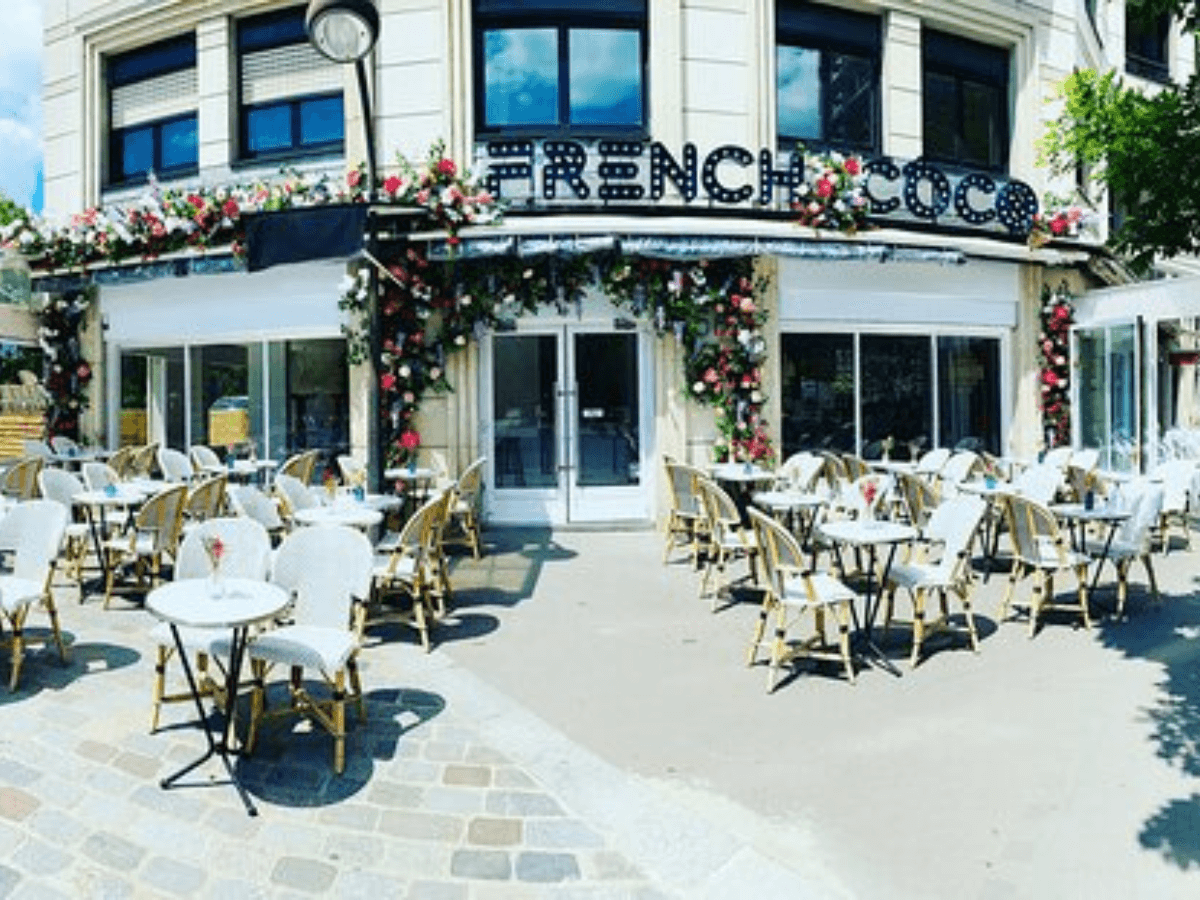 The French Coco brasserie is a bright space to have lunch with your children. The restaurant is carefully decorated with a Parisian vibe that creates a cozy atmosphere. There is a secure playroom to let the kids have fun between courses.
Many books, hopscotch, wooden kitchen and games are available for the little ones. Children's menus are proposed with a choice of steak, home-made breaded fish or chicken, with dish, syrup and ice cream for a total of 8€. The best part is the nice terrace.
Address : 56 Rue Balard, 75015 Paris
Price range : Children's menu for 8€.
Opening hours : Open Monday to Wednesday from 10am to midnight and Thursday to Saturday from 10am to 2am. Open on Sunday from 10am to 6pm.
Access : Metro line 8, "Lourmel" station

The kid-friendly restaurants that make you travel in Paris
9- Posto 9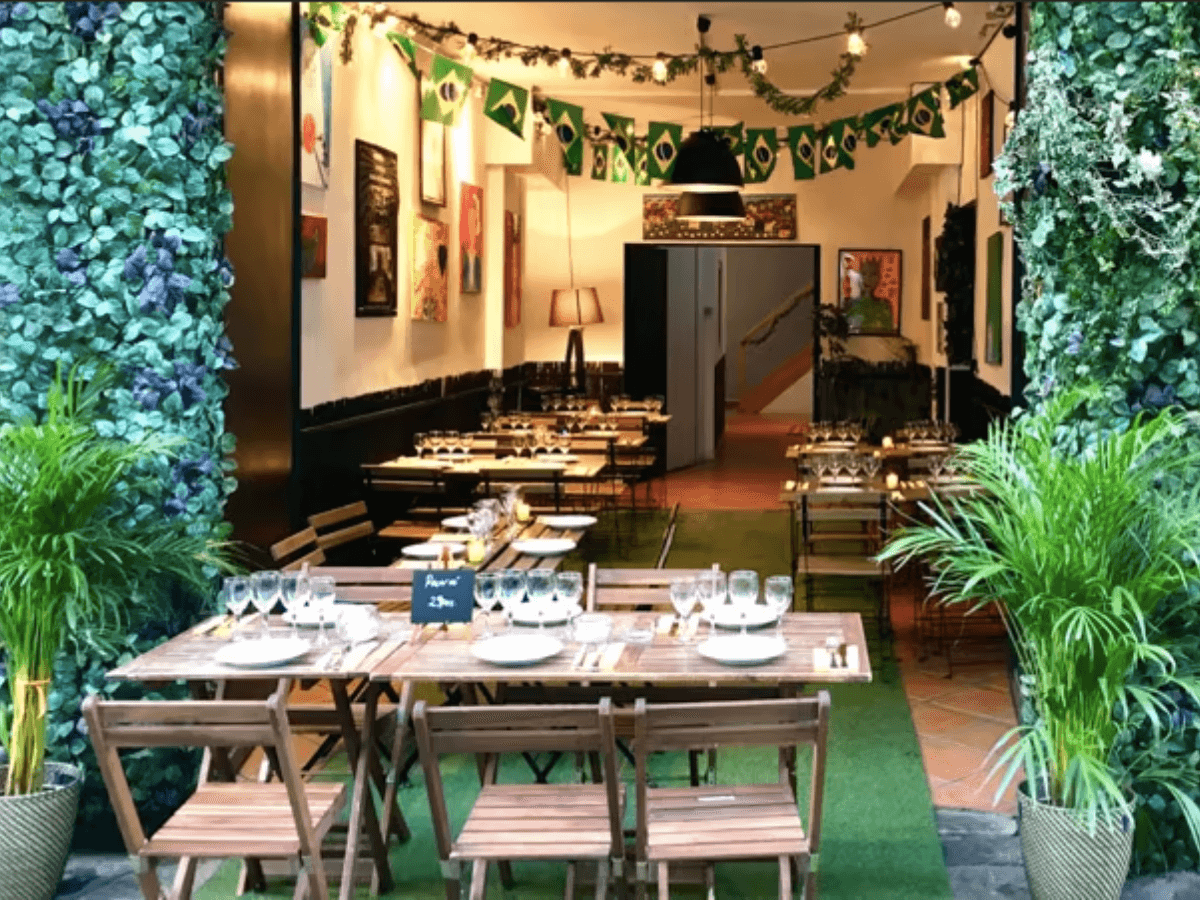 You want to immerse yourself in a completely different atmosphere from Paris? Do you feel like sunshine, bossa nova in the background and a tropical decor? Posto 9 is the Brazilian spot that will immerse you with the flavors of its typical Brazilian dishes in this sunny environment. The restaurant offers starters at 6€, main courses at 15€ and a children's menu at 10€.
The children's menu is reserved for children under 10 years old and includes a choice of beef bourguignon, breaded chicken or feijoada. It's a change, and it's so much better!
There is also a 300m2 tropical garden in the open air, to enjoy the good weather.
Good to know: the restaurant accepts reservations until 8:30 pm on its website.
Every Sunday, from 12pm to 3pm, you can enjoy an all-you-can-eat buffet of feijoada (a typical Brazilian dish made of black beans and meat), veggie feijoada, salads, tea and coffee. The buffet is 28€ for adults and 14€ for children under 10.
Address : 26 rue de Paris, 92110 Clichy
Price range: starters for 6€, main courses for 15€ and children's menu for 10€.
Opening hours : Open from Monday to Saturday from 12h to 14h15 and from 18h to 21h45. Closed on Sunday.
Access : Metro lines 13 and 14, "Porte de Clichy" station
10- La Felicità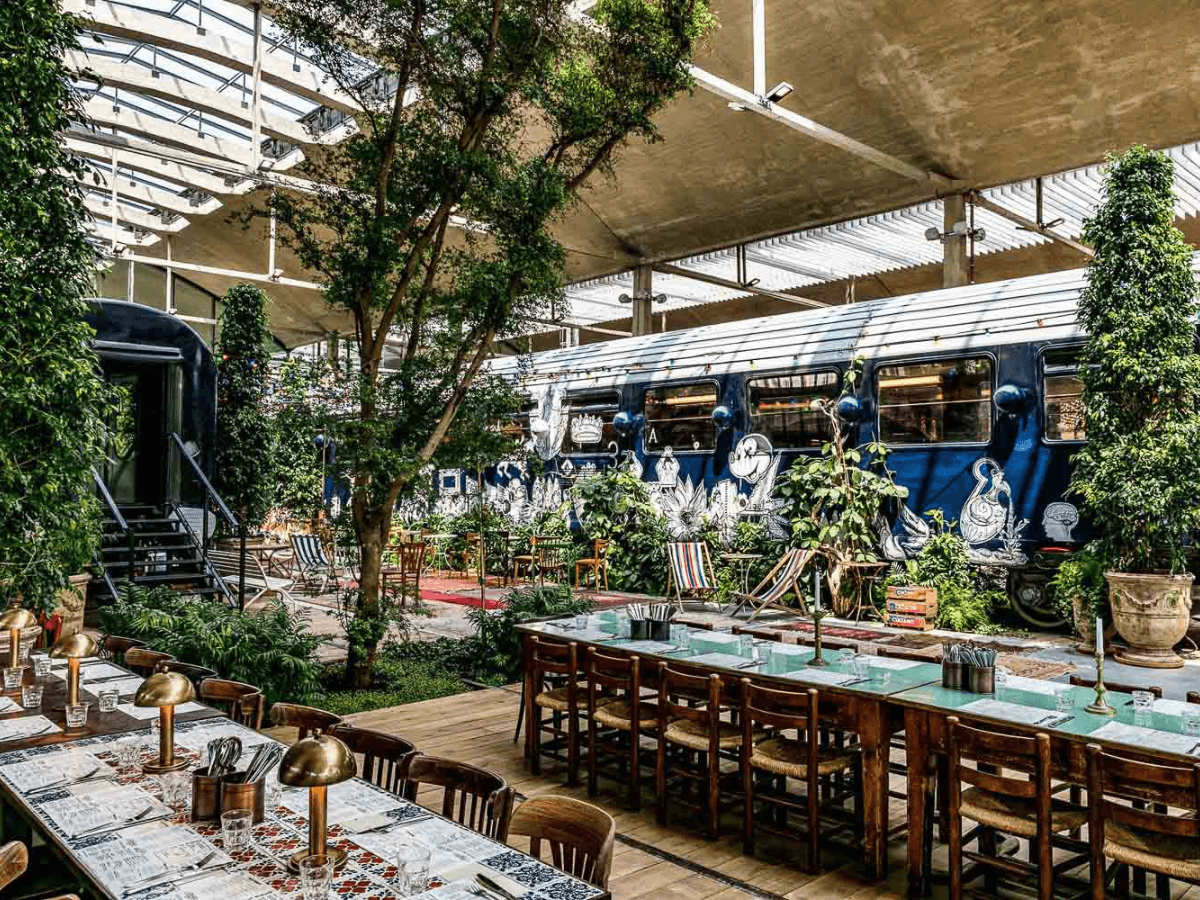 Considered as the largest restaurant in Europe, La Felicità is a must of Italian cuisine in Paris to discover with your family. This kid-friendly restaurant proposes animations of all kinds on weekends and a daycare center on Sundays.
Moreover, changing tables and high chairs are available to spend a good moment on the spot.
Good to know: The restaurant does not take reservations, everything is done on a casual basis! You arrive, you order and you taste!
Address : 55 Boulevard Vincent Auriol, 75013 Paris
Price range : Between 18€ and 20€.
Opening hours : Open from 9am to midnight from Monday to Wednesday, from 9am to 1am on Thursday and Friday, from 12pm to 1am on Saturday and from 12pm to midnight on Sunday.
Access : Metro line 6, "Chevaleret" station, Metro line 14, "Bibliothèque François Mitterand" station.
Here is our suggestion of 10 kid-friendly restaurants to do in Paris, tested and approved by us and our french testers families !
We hope this article will help you build your program to discover Paris with your kids!
To go further, discover our articles : Where to stay in Paris with family, Top 5 activities to do in Paris for Christmas.

Milirue : who are we?
Founded by a French mother of 3 children, at Milirue, we have one obsession, to offer you great family memories of your discovery of Paris!
To do so, we have designed walks that will allow you to discover Paris with your children, while having fun together! They come in very well-made notebooks, which exist in Mini (4-7 years old) and Junior (8-12 years old) versions to adapt to the children's ongoing learning. Vocabulary, level of reading and autonomy, complexity of the instructions and shared anecdotes, … everything is thought to transform them into mini-guides of Paris!
On the program: the Ile de la Cité, and/or the Louvre, the Tuileries and the Palais Royal!
Order them online! (several delivery methods available, worldwide)
See you soon, enjoy your visit to Paris and above all: have fun!
Clémence