TOP 10 : Museums to visit with children from 4 to 12 years old, in Paris
When I prepare my family trips abroad, the choice of museums is always a complicated subject!
Will it be age appropriate? How can we keep them interested during the visit if there is no support in our language? How to select in a hyper varied offer? Will these museums interest us, the adults too?

It is to answer all these questions that I, Clémence, Parisian mother of 3 children aged 10, 8 and 3, have written this article for you, who are going to discover this magnificent destination! 💪🏼
In this article, you will find :

Museums to discover science and nature in Paris

1 – La Cité des Sciences de la Villette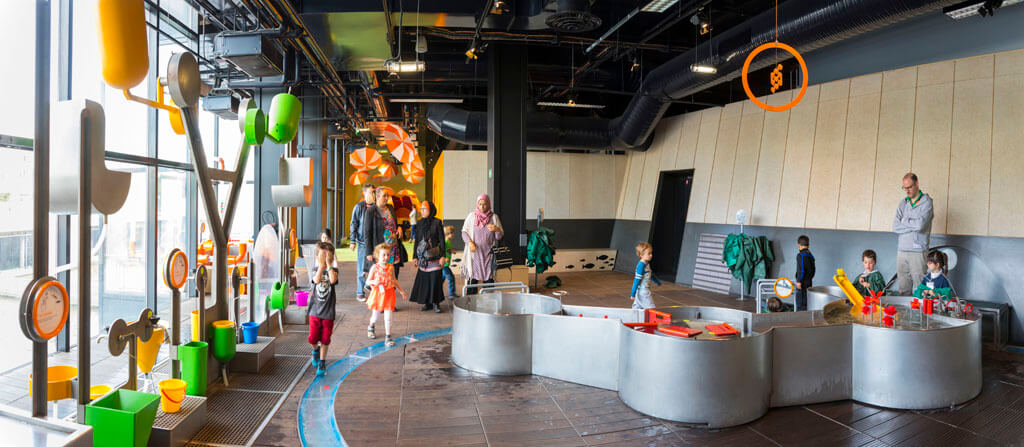 La Cité des Sciences de La Villette : a must for all French parents visiting Paris! If you don't have an equivalent near where you live, it's a great opportunity to come and make discoveries with your family. This museum, which is the largest science museum in all of Europe, is one of the best kid-friendly museums in Paris.

The Cité des Sciences is composed of the Cité des Enfants and temporary and permanent exhibitions.
1/ The Cité des Enfants (on reservation, entrance valid for 1h30)
There are 2 areas dedicated to children, adapted to their age.
The 1700m2 space for 2-7 year olds is divided into 5 thematic areas: I am discovering myself, I know how to do it, I can find my way around, I am experimenting, All together. On the program: manipulation, discovery, and good times spent being amazed together. You have 1h30 to explore, taking your time, to discover the different spaces in the order you want.
The 5-12 years old area is divided into 6 thematic areas: the body, communicating, the TV studio, water games, the garden and the factory. Likewise, you have 1h30 to enjoy each space: will they prefer the water games or transform themselves into Minions with their yellow helmet to build a house? You'll see, it's exciting to watch them and see their personalities express themselves through these universes.
2/ The Temporary and Permanent Exhibitions, the Planetarium and the Argonaut Submarine
After finishing your session (or before), you can discover the installations outside and inside the Cité des Sciences: aquarium, planetarium, exhibitions…
A "2 in 1" ticket gives you access to all the facilities.
Address : 30 avenue Corentin Cariou, 75019 Paris
Opening hours : Tuesday to Sunday from 9:30 am to 6 pm.
Prices : 12€ the entrance. We advise you to book in advance, especially during school vacations.
Access : Metro line 7, Porte de la Villette or Corentin Cariou stations.
Bus lines 71, 139, 150, 152, Porte de la Villette station.
Tramway line T3b, Porte de la Villette station.
2- Le Musée d'Histoire Naturelle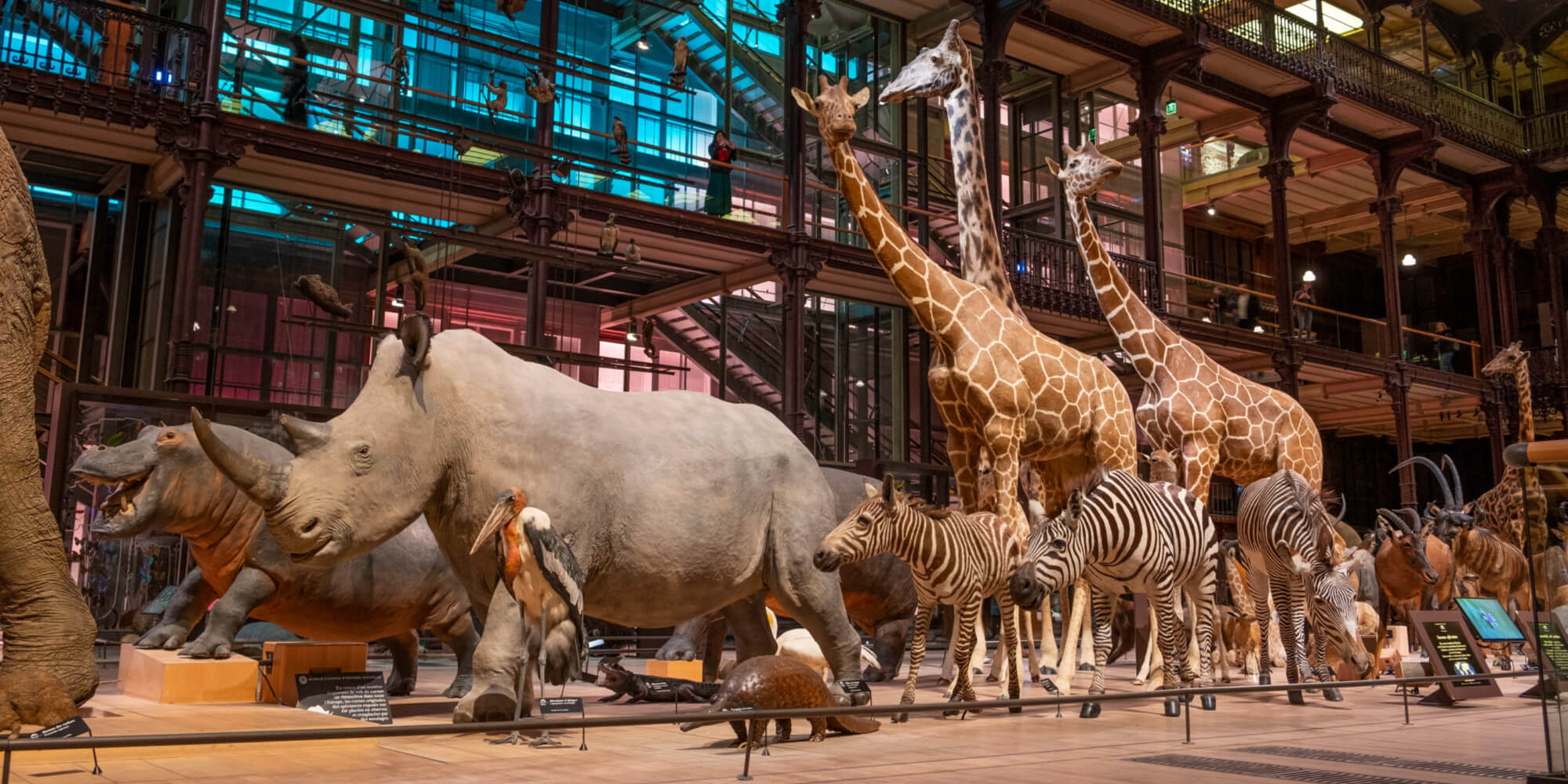 The Natural History Museum is a place that gathers several museums, gardens and zoo to visit within a few steps.
On site, the museum offers exhibitions, animations, guided tours, workshops, conferences or films for all audiences. Discover the exhibitions on the Sensory Odyssey, biodiversity, … Live unique experiences that will awaken the curiosity of your children in the world around us.
You can, for example, discover: the Museum of Man, the Paris Zoo, the Great Gallery of Evolution (which we will present to you next), the Jardin des Plantes, …
Don't hesitate to consult their agenda to have more information on the activities or to obtain information according to the visit you wish to make.
Address : 57 rue Cuvier, 75005 Paris
Opening hours : Open every day except Tuesday, from 10am to 6pm
Access : Metro lines 5 and 10 and RER C, Gare d'Austerlitz station
2 bis – La Grande Galerie de l'évolution
La Grande galerie de l'évolution is located in the Jardin des Plantes of the Natural History Museum and takes you to discover the diversity of the fauna. More than 7,000 specimens of the terrestrial and aquatic worlds are to be observed. Your children will love to discover the 350 mammals, 450 birds, 360 fish and a hundred reptiles.
A set of lights and sounds puts you directly in the atmosphere for a memorable experience. A room is also dedicated to endangered animals. This museum will amaze your children and make them aware of the preservation of our environment.
Visits last 1 hour and 15 minutes and your children will have the possibility to follow a path to discover it while playing. The museum provides game cards to discover the riches of the Great Gallery of Evolution. Interactive terminals to discover animals, the planet and science in a playful way are also freely available.
Address : 36 rue Geoffroy-Saint-Hilaire, 75005 Paris
Opening hours : Open every day except Tuesday from 10am to 6pm
Prices : 7 to 13€.
Access : Metro lines 5 and 10 and RER C, Gare d'Austerlitz station / Metro lines 7 and 10, Jussieu station
NEW: Check out our article "Top 5 activities to experience with your family during the Christmas vacations 2022-2023"
Surprising kid-friendly museums in Paris

3 – Le musée de l'illusion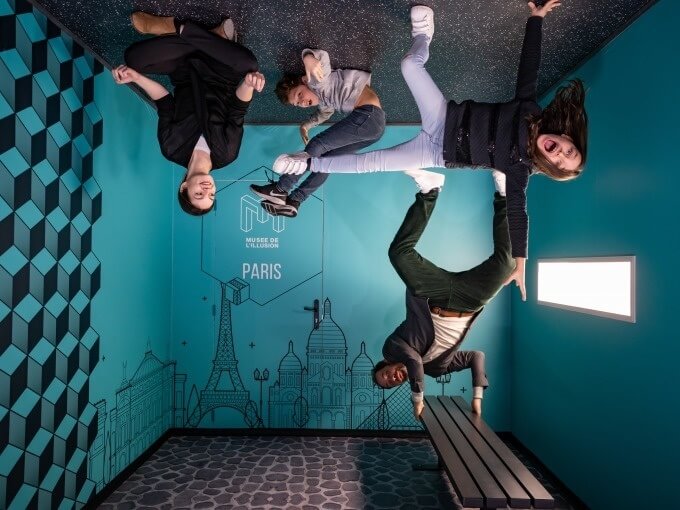 The Musée de l'illusion offers you unique optical illusion experiences during a 2 level tour. Between the trompe l'oeil, the puzzles, the impossible knots, the rebus, … you won't believe your eyes and your mind will be put to the test! A game room called the "smart room" is also available for visitors to play alone or in competition and learn.
The goal of the museum is to challenge you mentally and educate you.
Check out all the exhibits by clicking here. So, who from Dad, Mom or the kids will come out unscathed, without getting dizzy?
Have a great time as a family challenging your senses, losing your bearings and getting an eyeful. Don't forget to charge your phones to take lots of pictures!
Address : 98 rue Saint-Denis, 75001 Paris
Opening hours : Every day from 10am to 10pm.
Prices : Family (2 adults + 2 children) : 45€, child (5-15 years old) : 12€, child (under 5 years old) : free, adult : 18€.
Access: Metro line 4, Étienne Marcel station
4- Le musée du chocolat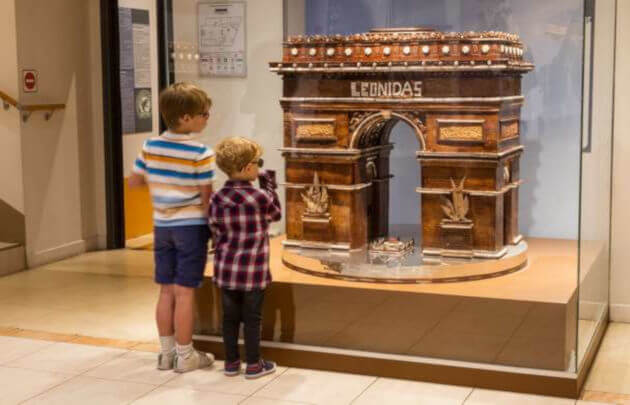 The musée du chocolat will appeal to young and old chocolate lovers alike! Dive into the world of chocolate to discover its origins, discover the techniques of chocolate making, taste great cocoa and fair trade chocolates, have fun with your family, make your own chocolate, …
Many activities are offered to families:
A fun tour with a treasure hunt or an in-depth quiz to discover the world of chocolate
A DIY workshop to make your own chocolate bar with a chocolate. Please note that reservations are required for this workshop.
Surprise visits with a lecturer
The visits last between 1 hour and 1h30.
Address : 28 boulevard de Bonne Nouvelle, 75010 Paris
Opening hours : Open every day from 10am to 6pm
Prices : Free for children under 6 years old / 8,50€ for children from 6 to 11 years old / 12€ per adult / Ticket for visit + workshop at 35€.
Access : Metro lines 8 and 9, Bonne Nouvelle or Strasbourg Saint-Denis station
5 – Le musée de la magie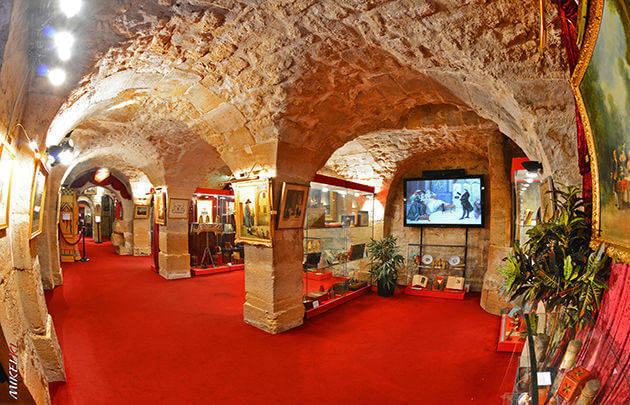 Le musée de la magie will make you discover the surprising and incredible universe of magic. On the spot, you will be able to discover with your family a unique collection of automatons, great illusions (such as optical illusions), magic objects and exhibitions. During this 1 hour visit, you will also attend magic shows.
Are you ready to impress your children? Magic will have no secret for them (and for you!)
Address : 11 rue Saint-Paul, 75004 Paris
Opening hours : Open on Wednesday, Saturday and Sunday from 2pm to 7pm. Daily opening during the school vacations of the zone C.
Rates : 10€ for children from 3 to 12 years old / 13€ per adult Access : Metro 1, 4, 5 and 7, Saint-Paul, Bastille or Sully-Morland stations
6 – Le musée en Herbe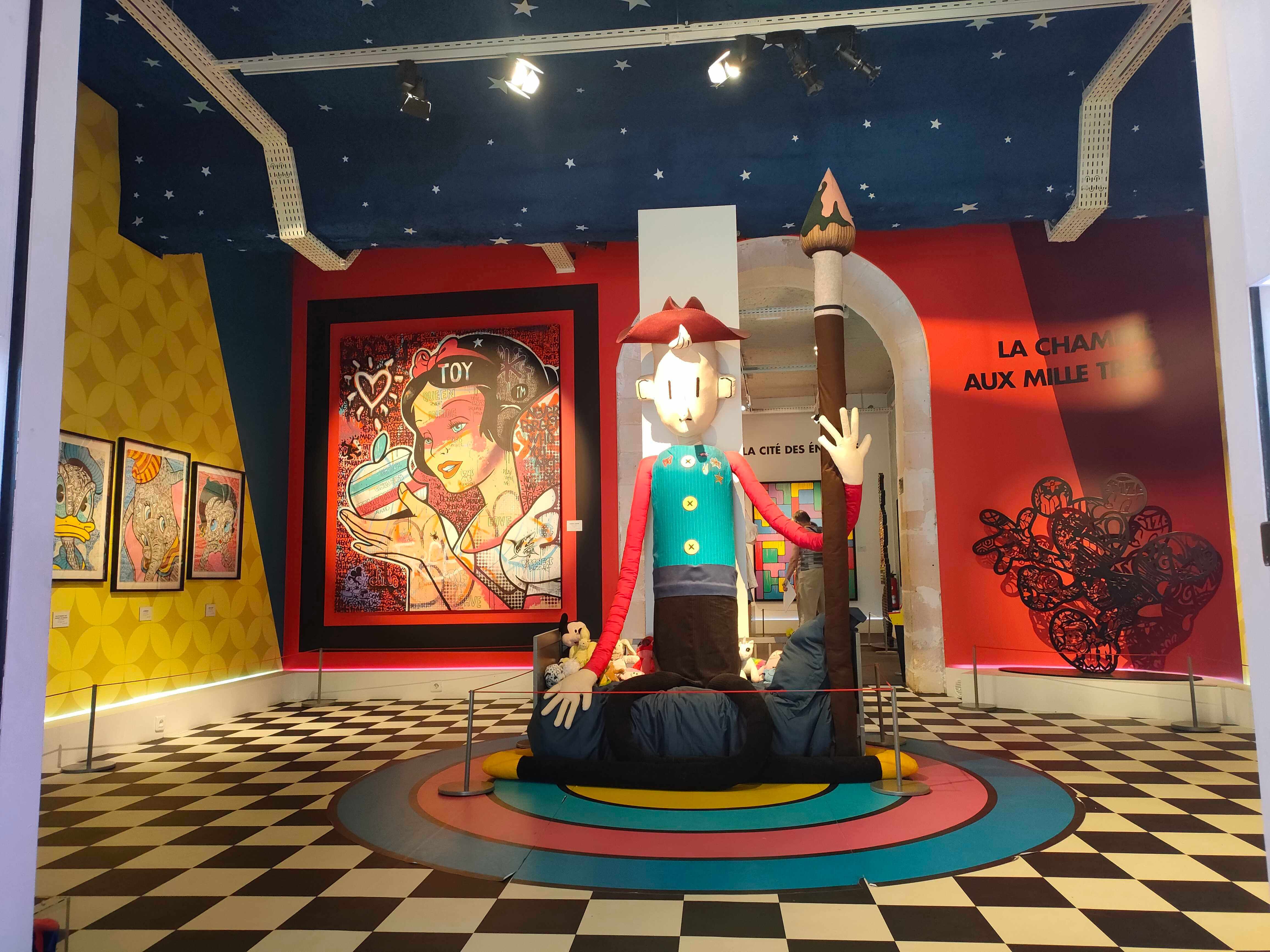 The Musée en Herbe is a marvel nestled in the 1st arrondissement, known by all Parisian parents. There are exhibitions for the whole family, from 3 years old to… 103 years old!
Through imaginary and magical exhibitions, you will become the heroes of your own visit. It's fun, cultural and especially very artistic. Your children's curiosity and interest in art will be awakened!
Until May 21, 2023, the exhibition "En avant la musique" (Ahead with the music) is to be discovered.
The museum proposes free visits during which you will be really actors of your discoveries. A small booklet allows you to discover each of the 5 rooms, in addition to the games proposed in each of them. Children put on their superhero cape as soon as they enter the museum, and let's go for the discovery of a fun universe.
Address : 23 rue de l'Arbre Sec, 75001 Paris
Times : Open every day from 10am to 7pm
Prices : Between 7€ and 30,50€ according to the chosen formula. Buy your tickets online.
Access : Metro line 1, Louvre-Rivoli or Châtelet stations / Metro line 7, Pont-Neuf station / Metro line 4, Les Halles station
RER lines A, B, D, Châtelet Les Halles station
Good plan : Our notebooks "Milirue à Paris" are available in the store of the Musée en Herbe, in Mini (4-7 years old) and Junior (8-12 years old) versions. Ideal to discover Paris: the starting points of our 2 routes are nearby.
7 – L'atelier des Lumières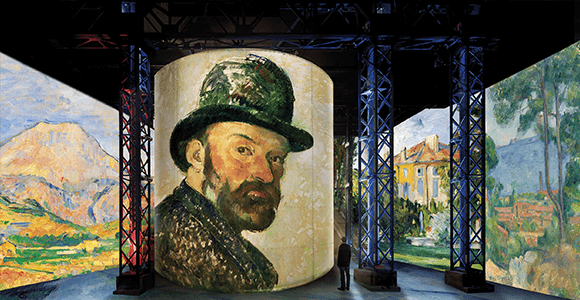 L'atelier des Lumières opened in an old foundry of 2000m2 and 10 meters high. Inside, you discover a large exhibition space. The principle of the place is to put technology at the service of art by projecting on giant screens and on the floor classic pictorial works. You will literally be immersed in a universe where art surrounds you, accompanied by background music. You will experience a visual shock, the colors explode and more than 3000 images scroll by. This new way of discovering art is a very nice way to initiate your children and to awaken their curiosity.
The exhibitions change at the end of January 2023 for the net year. Discover their entire program by clicking here.
Good to know:
The exhibitions last 1 hour.
The museum does not recommend a visit to children under 2 years of age due to the effects of light and image that may offend their sensibilities.
You can enter the museum at any time during the opening hours and you can stay as long as you wish. The last entries are 1 hour before closing time.
Address : 38 rue Saint-Maur, 75011 Paris
Summer opening hours from July 8th to August 28th : Monday to Saturday from 10am to 6pm and Sunday from 10am to 7pm. The night openings take place on Friday and Saturday until 10 pm and on Sunday until 7 pm.
Prices: Free for children under 5 years old. 48€ for 2 parents + 2 young people from 5 to 25 years old. 11€ for young people from 5 to 25 years old. Note that you get a 2€ discount when you book on their website.
Access: Metro line 3, Rue Saint-Maur station, line 2, Père Lachaise station and line 9, Voltaire or Saint-Ambroise stations.
8 – Rex Studios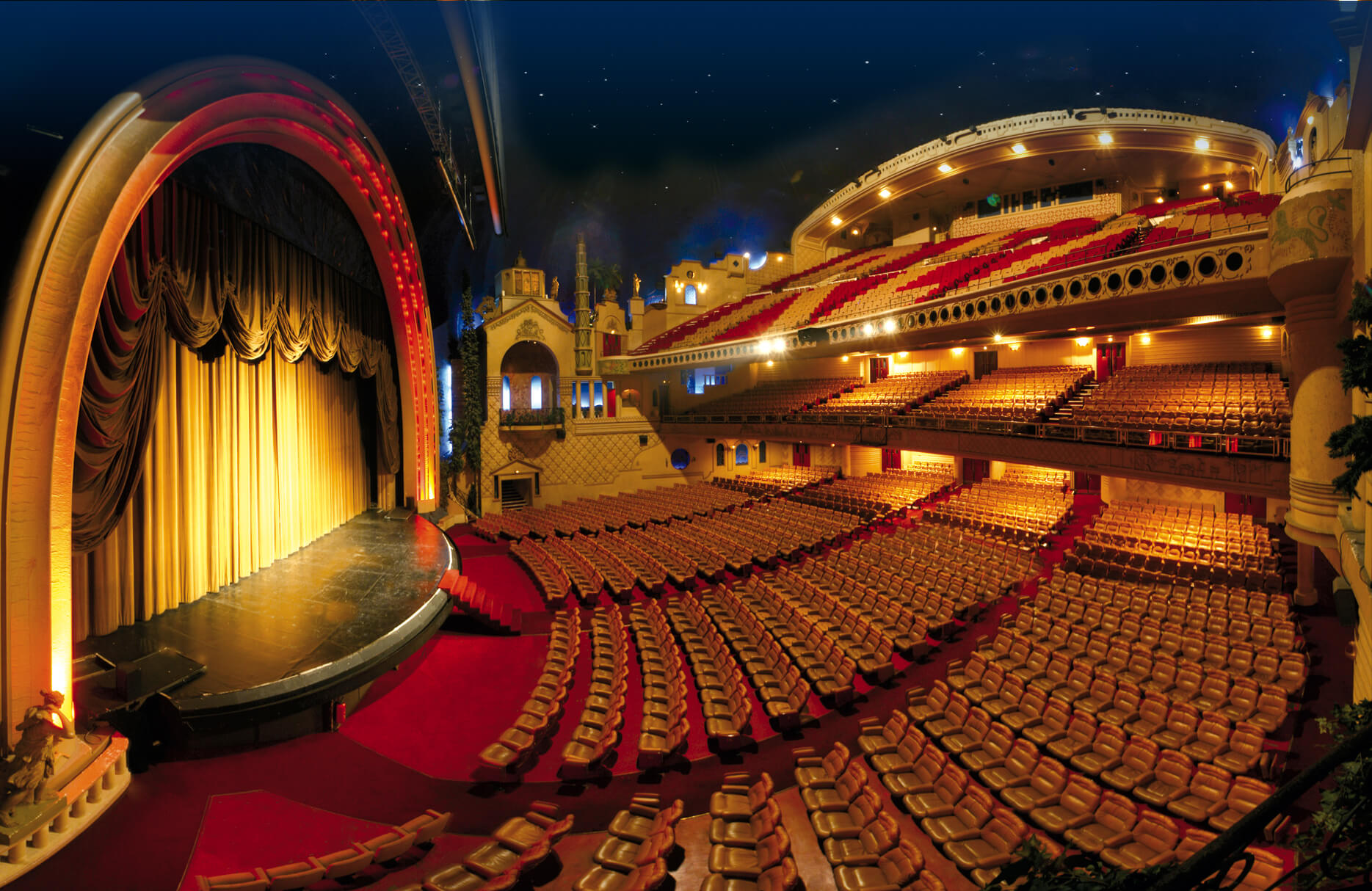 Le Rex Studios invites you to discover the backstage of the cinema and the secrets of the 7th art, through an audio-guided visit. The Grand Rex is a monument of French heritage, rich in history and with its original set since 1932!
During your visit, you will discover the creation of a film through a series of sets: projection booth, director's office, film set, … You will also have the opportunity to become an actor, discover dubbing and special effects! It's time to live your moment of glory and show your best talents!
The guided tour lasts 1 hour and the discovery of Rex Studios lasts 50 minutes.
1, 2, 3, action!
Address : 5 boulevard Poissonnière, 75002 Paris
Opening hours : Open on Wednesday, Thursday, Saturday and Sunday from 10am to 12pm and from 1pm to 7pm
Prices : 9€ for children under 18 / 11€ for adults
Access : Metro lines 8 and 9, Bonne Nouvelle station
Museums to discover the story of France and Paris
9 – Le musée Carnavalet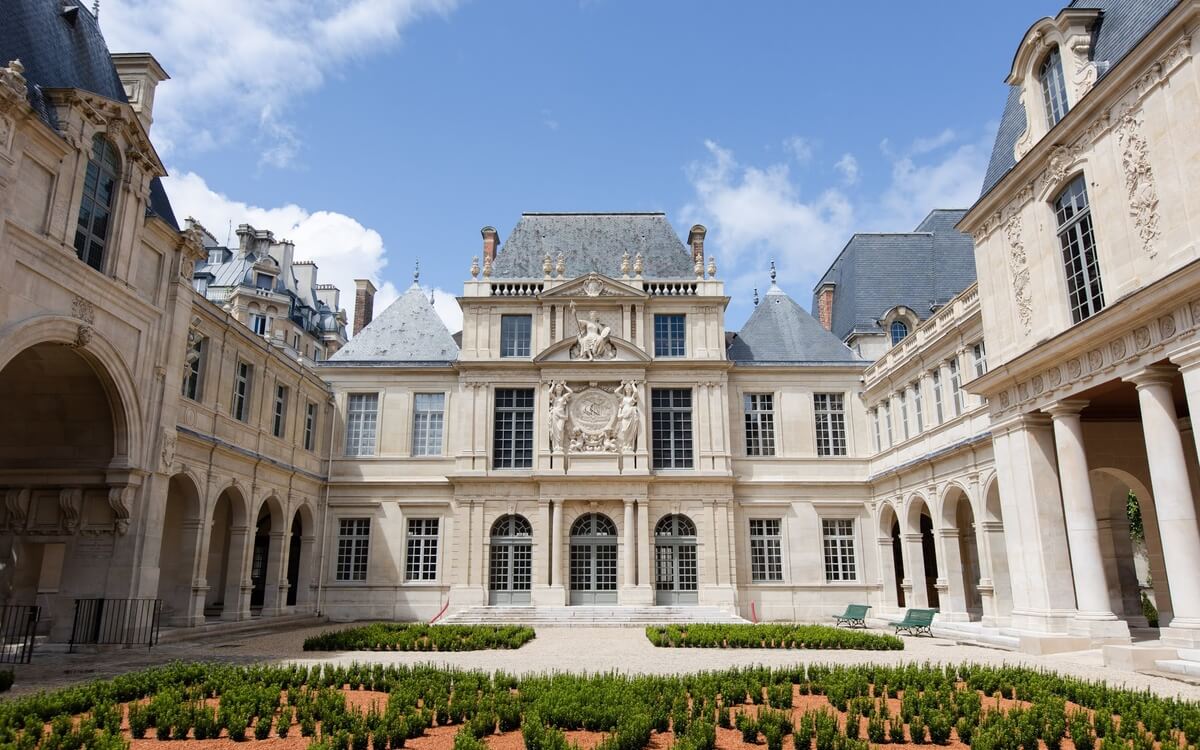 Le musée Carnavalet is the oldest museum in Paris. It traces the history and origins of the city for over 150 years. You will find more than 600 000 works: paintings, sculptures, models, signs, drawings, engravings, objects of history and memory, … The museum promises you a visit rich in experiences and emotions.
The museum offers 5 chronological routes to discover with their official application "Carnavalet Museum – History of Paris":
The essential works
The sign rooms and introduction
Paris from prehistory to the beginning of the 16th century
From the end of the 16th century to the 18th century
The French Revolution and the beginning of the 19th century
From 1852 to the present day
7 to 30 works are to be discovered during these tours. For each tour, you will find a selection of works to discover in the museum's rooms. They are accompanied by an explanatory commentary to read or listen to. Audio content has been specially designed for the young public in the children's tours.
Address : 23 rue de Sévigné, 75003 Paris
Opening hours : Tuesday to Sunday from 10am to 6pm.
Prices : Between 5€ and 10€ according to the chosen formula. The rates are reduced for people under 26 years old. Do not hesitate to consult their rates for more details. We advise you to book your tickets on their website in advance.
Access : Metro line 1, Saint-Paul station / Metro line 5, Bréguet Sabin station / Metro line 7, Pont-Marie station / Metro line 8, Chemin Vert station
Good plan : Discover Paris with our "Milirue à Paris" booklets and complete your stroll with a visit to the Carnavalet museum ! A very nice way to combine the discovery on the ground and the recognition of the works of the past, with an easy thread for the kids (and for you).
10 – Le musée de l'Armée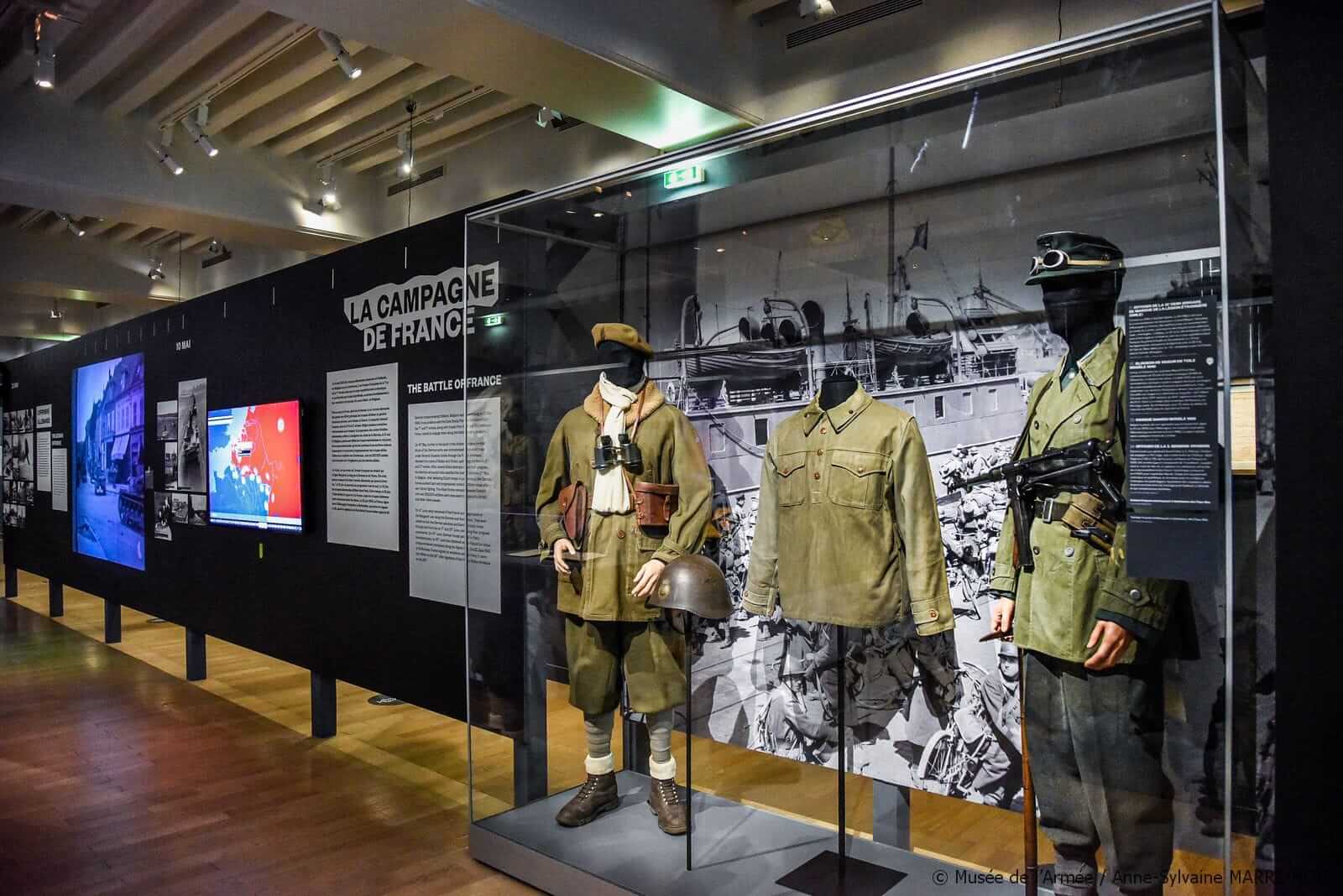 Le musée de l'Armée, located in the Hôtel des Invalides, will make you relive the different eras that marked the history of France, from Antiquity to the two great world wars. Inside the museum, there are rich and exciting thematic rooms to discover: Napoleon, world wars, Charles de Gaulle.
The museum also offers family-friendly activities from 6 years old: investigation games, storytelling tours (a storyteller makes you discover the life of a character), coat of arms creation workshop and guided tours. The choice is varied and allows you to experience a rich cultural outing with your family! Attention, watch out!
Psst, during your visit, don't miss the tomb of Napoleon which is under the dome of the Invalides.
Address : 129 rue de Grenelle, 75007 Paris
Opening hours : Open every day from 10am to 6pm
Rates : Free for children under 18, teachers, soldiers / Adult : 14€.
Access : Metro line 8, La Tour Maubourg or Invalides station / Line 13, Varennes station
RER C, Invalides station
Here is our suggestions of 10 kid-friendly indoor museums to do in Paris, the favorites of French children and their parents. We hope it will help you build your program of discovery of Paris with your kids!
Paris, an open-air museum!
Paris is a magnificent open-air museum. But you have to know what you are looking at, and be able to tell your children about it. Otherwise, it's no fun for anyone, is it?
That's why I created the Milirue notebooks.

They are super well made notebooks that allow you to transform children into mini-guides of Paris through 2 fun and playful guided tours, designed to be done in autonomy. A fun, playful and educational concept which combine challenges, anecdotes, explanations and other surprises.
Our notebooks exist in Mini (4-7 years old) and Junior (8-12 years old) versions to adapt to the children's ongoing learning. Vocabulary, level of reading and autonomy, complexity of the instructions and shared anecdotes, … everything is thought to transform them into mini-guides of Paris!
The notebooks are supported by a web application that allows you to be guided and to have additional information. A real family cooperation is set up and you will discover many things while having fun together!
In the booklet "Milirue in Paris", there are two adventures :
the 1st, to discover the Ile de la Cité (1h45-2h walk at your own pace): Notre Dame, Saint-Michel fountain, flower market, Pont Neuf, Conciergerie, quai de la Mégisserie and its booksellers, …
the second, to discover the Louvre, the Tuileries and the Palais-Royal (1h30min walk).
A booklet, for 2 walks. And also games, activities, and stories to discover before leaving!
In short, THE perfect solution for families who want to combine culture and fun in Paris!

Order them on-line ! (Several proposals of delivery modes, worldwide)


To go further, discover our articles : (Top 20) Best Places to stay in Paris for Families, Christmas in Paris: the top 5 activities to do with your family!, The best kids-friendly restaurants of Paris (with a map)
You want to know more about Milirue ? Discover our concept !
Bonne visite et à bientôt,
Clémence